Luna 5000w Rhino Cargo
---
(DISCONTINUED. FOR OUR CURRENT MODELS PLEASE

SEE THIS PAGE

)
Luna Designed Aluminum Frame Set
Heavy Duty Steel Truss Front Fork
Our fastest most rugged bike
5000w super powerful and robust mid drive motor
72v 11.5ah battery option for 72v 17.4Ah pack
80 pounds
40+ mph plus hill climbing torque never seen before on production bike
For off road use only
*****
Notice:
This bike is for local pick up only unless you have special approval. This bike is only available at this introduction low price to loyal Luna customers. Please email us before putting your order in for this bike.
It is a very high power bike that is for ebike enthusiasts only.
This bike is a preorder and takes many months to build. We can ship any other bike on the site much faster, if you are pressed for time we recommend a different model.
The Luna Rhino Cargo was designed for hunters and other people who ride on private property only, or for racers on racetracks who want to embarrass gas bikes. It is not legal to ride this bike on the road in all 50 states unless you limit the power.
It can be used on private property, at race tracks, by private security at corporate complexes, but never on public roads.
Finally
Finally Luna announces its flagship cargo bike, the Rhino. This bike has been 5 years in the making and we are proud to announce an ebike like no other. To get all the perfect parks for this frame we designed it literally took us 5 years. We accumulated so many parts while bringing this bike to market that we started Luna Cycle during this time as first a parts company and now finally a bike company.
You will find no better fast purpose built bike than this for this kind of price.
This bike is for off road use only, and was designed with the Hunter (on private property) or the survivalist in mind.
However we can offer this bike in a 48 volt version that has been tuned for street use if you want it that way. The 48v version does not have the insane performance of the 72v version and is not recommended, especially if you want to carry two riders or extra cargo.
Rhino Power
This ebike was designed with Rhino power using a big block Cyclone 5000w motor with 30 percent more power capability than the 3000w Cyclone motor which has proven itself to be a robust and reliable solution. The motor uses a 7 to 1 gear reduction for the ultimate in efficiency and performance.
We have this bike geared low so it has a top speed of only 40mph but with tons of torque to climb anything. even off road.
We can sale this bike with a 48 or 72 volt battery, and the 48 volt version we will configure in street legal mode.
We can also custom install 3 speed switch for 3 levels of power (level 1 is 750w) and ebike brake safety cut off switches if you need it.
We sale this motor stock with a 40amp controller. But you can upgrade this controller later to out bluetooth cyclone controller which can be installed in less than an hour to get a full 60 amp 72 volts for a full 5000 watts of power. However this is only something we recommend for racing applications.
Robust but lightweight frame set
You will never see such intricate welding and metal work as you will see on this bike.
Its front and rear racks have over 50 intricate welds each. The racks are strong enough to carry a 200 pound passenger on front or back. If you are a big game hunter this is your bike. If you are survivalist who wants to survive the apocalypse, this bike is it.
The beefy drop outs front and rear were designed to take high hub power if you ever decide to add a 2nd motor.
Every piece of metal on this bike from the handlebars to the crazy truss forks were custom designed for this bike.
This bike includes custom made front and rear aluminum fenders. (only front fender is seen in photo)
The total bike weight is only 80 pounds.
Transmission built into the rear wheel
In its massive Run Ringle Rims, the Luna Rhino has a transmission built into the tiny hub inside, a 3 speed internal gear hub called the DD3. This is the strongest of all the 3 speed internal gear hubs. However it can still be damaged by applying too much torque in first and 3rd gear or by shifting under load. We recommend to ride primarily in 2nd gear, and 1st and 3rd you cant just pin the throttle wide open. The Internal gear hub is not covered by any warranties because of the obscene power we are running through it. But if you do destroy your DD3, we will swap out the blown unit for the price of $100.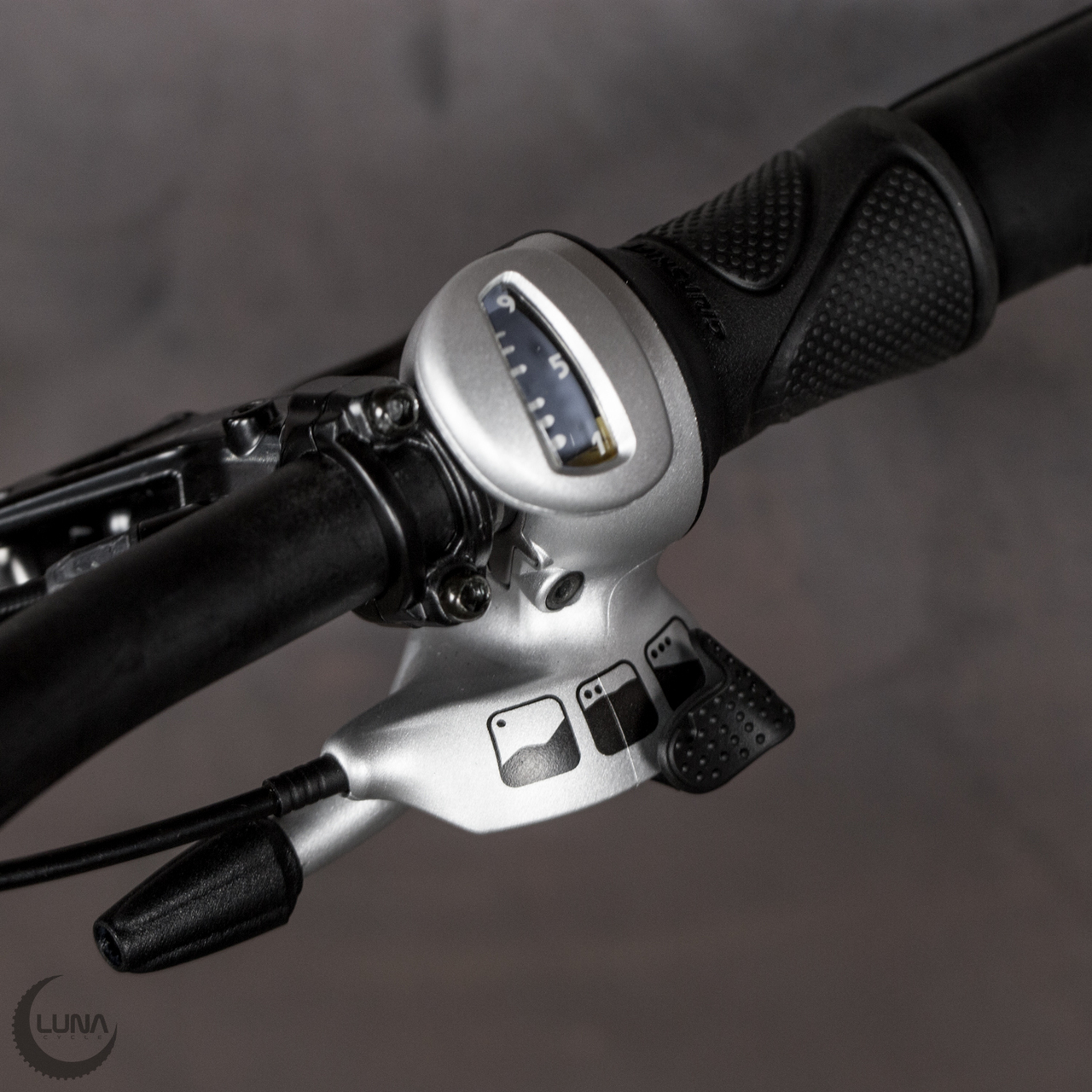 Tons Of Extras
Hayes Comp Pro hydraulic disc brakes with 200mm rotors (because at Luna stopping fast is as important as going fast :) )
Brookes Saddle
Sram DD3 3 speed internal gear hub
Premium Sun Ringle Fat Rims with 4.9 inch wide tires
20w 4 light LED Vintage style light up front
Center Kickstand
Mosso CNC Pedals
Luna Tick Chainring with triple pawl bearing
Optional Upgrades:
17.5 72v built in battery ($250)
Luna Lander front suspension fork ($180) note: your lose front rack and front fender with this option.
CNC Thumb throttle ($100)
Vee Rubber Studded XL tires ($150 per pair)
Introducing our fastest Ebike Ever
The Rhino Cargo has a 5000w mid drive motor which is makes it the fastest ebike we have ever sold and it does not disappoint for someone who wants something different than the ordinary BBSXX Build. It is among the fastest production ebikes ever made. This build does not use a hub motor, but a powerful mid drive. It only weighs 80 pounds which is lightweight for this kind of size and power. It is hard core, and is meant for the hard core ebike enthusiast. It is for race use or private property use only and should only be rode on private property.
Custom CNC Parts Lovingly Made in California

We custom made and designed many different cnc parts just for this bike from motor mounts to fenders, and an optional thumb throttle that will blow your socks off.
This bike uses our own Luna Tic double freewheel crankset which uses a triple row of bearings for reliable & safe operation even at high RPMs.
The end result is a quality, powerful bike with the quality you would expect from Luna, at a price never seen before in something this high performance.
Hand built to order
Like all the Luna Bikes this bike lovingly assembled in our shop in Los Angeles California.
A bike like this takes us at least two full days to assemble and pack and ship out.
We ride test each bike and make sure it is all dialed in before shipping.
To get your bike going all you need to do is unwrap it and put on the handlebars.
Why buy from Luna a New Ebike Company You Haven't Heard Of?
Panasonic 72v PF 11.5ah Battery
The battery is the most vital of any ebike. We use name brand 18650 cells available (the Panasonic PF) which offer both amazing energy density and high performance. (read a review on this ebike pack) We make our packs with quality BMS, cases and cutting edge technology. You can have confidence that when this bike is outfitted with a Luna Cycle battery you are getting the ultimate in reliable, safe, performance at an affordable price.



Battery box built into the frame
For the ultimate in convenience balance and safety the battery is contained in a metal box that is built into the frame.
You can remove the battery by removing 6 screws. The box has the capacity to contain a much larger battery so you have many options for upgrades.
Although the battery is removable, it is not convenient to remove this battery for charging so the battery should be charged while in side the frame.
For a $50 upgrade fee we will install Rosenburg Magnetic connectors on this bike.
21 Piece Luna Toolkit

Because we feel every rider should have the capacity to wrench, we are including a free Luna kit which is all tools we either made or hand selected to be perfect companion to one of our mid drive bikes.

This will help you because our high performance mid drive bikes will need occasional adjustments, This kit along with our video guides will give you the tools you need.
Frame Sizing
This is a fairly large bike with a high standover and only riders 5' 8" or taller will be able to ride it.
Warranty Options
We are an eCommerce company. We charge minimal markup because we do not offer face to face support. Most of our sales are to enthusiasts and to builders who know what they want and don't need a lot of assistance from their dealer. You can use our
forums
and
knowledgebase
to find the answer to almost any support question you have.
If you expect your bicycle to be flawless and never need adjustment or maintenance, we recommend that you buy your ebike from a local brick and mortar ebike store if you have one near you, especially if you want person to person support when it comes to adjustments and maintenance of your ebike. We do not offer this level of support.
Bikes are large and expensive to ship, and once you ride it it is used, and we do not offer any returns on your bike unless it is dead on arrival.
For 30 days after you get the bike we will replace any parts that are defective.
These are just bicycles and are easy to maintain and to work on, we really encourage you to learn basic bicycle maintenance or get a relationship with a local bike shop.
The drive system and battery we will cover for 90 days for part replacement.
Extended warranties are available for 6 months and 1 year and 2 year for an added cost. Warranty covers any parts that are defective we will send to you with instructions how to install.
Since our drive systems are modular every repair is easy with the right part in hand.
That being said this a high quality bike with a high quality component system and should be as solid as any ebike. However, you will be required to do routine adjustments and maintenance on your own.
---
Support Notes
Please note this is a preorder and typically takes many months to build. If you are pressed for time our other bikes ship much sooner.
*****
How big is the rack tubing? Need to know for rear baby seat / side bags etc.
The tubing for the racks is 10mm
Subscribe to our newsletter!