Luna Full Color Display DPC-14 For the BBS02 and BBSHD
Luna Full Color Display DPC-14 For the BBS02 and BBSHD
---
The first full color display available for the Bafang BBS02 and BBSHD
The highest quality display available for the Bafang BBSxx
5 button control
USB Power cord for charging phone or powering light
displays volts for highly accurate battery gauge giving you a good idea wen your battery will die.
Clock
Automatic back light, Black or white background can be toggled
Odometer, trip time, and total mileage
*****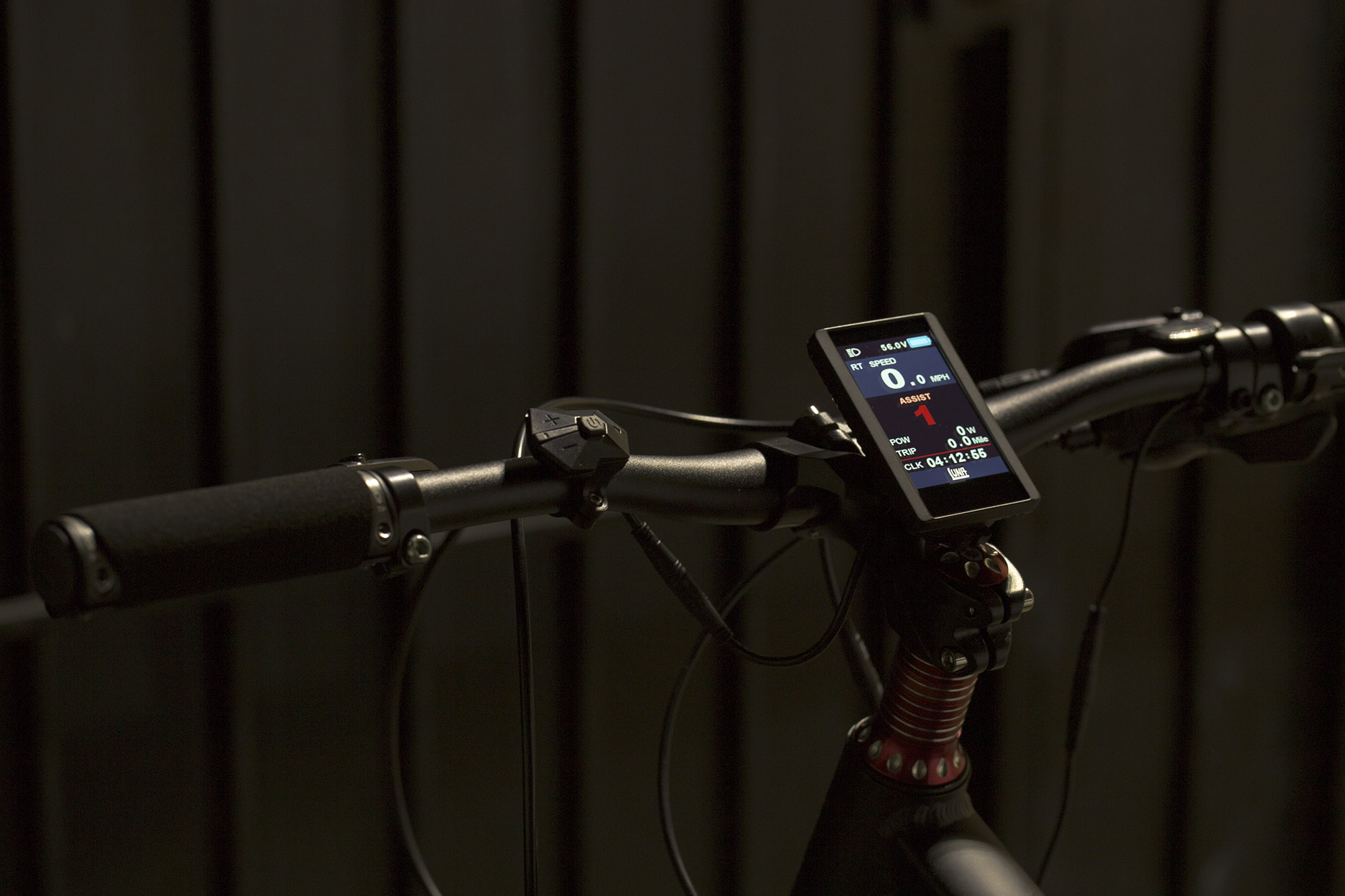 Read independent review of the color display here
We have had samples of this top secret display and have been testing for several months giving Bafang our feedback. We are very pleased with this display, and can fairly say it is hands down the best Bafang display ever.
This display features :
Full color display

Volt Meter for accurate battery gauge for even 52v batteries!

Up to 9 levels of assist

USB Charger

Watt meter

Volt meter for accurate battery gauge even with 52v batteries

Clock

Password lock

Variable battery settings

Black and white background modes

Auto brightness setting

For a full independent review of the DPC

-

14 from electricbike-blog click here.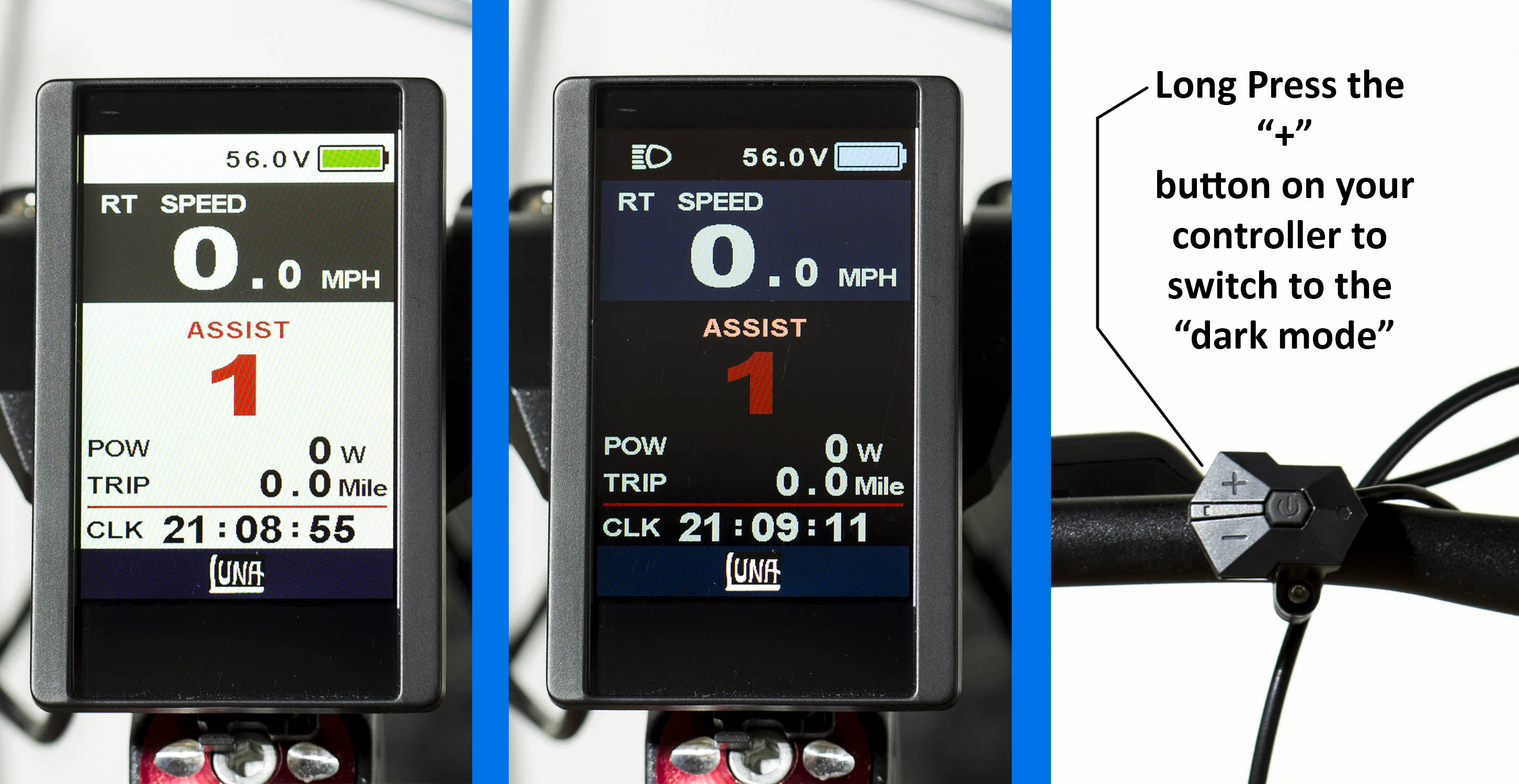 The first released full color display for the Bafang BBSXX series and of course Luna Cycles is the first dealer in the world to carry it.
It gives a volt display that will gvie you an accurate display of your battery's "fuel tank" which solves the 52v fuel gauge accuracy issue with the Bafang drives.
52v battery note: Although the gauge is accurate as your battery loses charge...this meter displays a maximum voltage of 56.4...so when your battery is full charged it will not display the correct voltage.

After your battery falls below 56.4 this is an accurate voltage display however.
How to change the assist levels so it has 9 levels of assist
This display shows in mph or kph (your choice).
You can toggle by holding the Plus button between white back ground or black dark ground depending on your preference and available lighting.
It has a clock and it will also display total ride time.
It has the convenience of a usb cable plug that can charge your phone directly from your ebike battery. No other BBSxx display except the DPC-10 has this. Be aware that the USB port only produces about 0.5 amp which is enough to charge a phone or run a GPS but is not powerful enough to run a high power LED bike light.
Works with the BBS01, BBS02 & BBSHD drive units.
Support note: please do not overtighten the bolts on the plastic mounting bracket (especially the selector switch) we do not have replacements if you break the bracket.
*****
37 Reviews
dpci4
i like it.
DPC-14
Ordered per website. Arrived quickly and works as advertised. Simple and easy to operate, ordered 2.
South Bird.
Jun 29th 2017
Great Display
On bright settings it is easy to see. The digital volt reading gives you an exact status on battery charge. Fairly easily programmable with Luna video. Color display is much nicer than black and white alternatives.
Gabriel Meza
Jun 15th 2017
buena pantalla, pero..
es excelente esta pantalla, el unico problema que tiene es. que en los dias muy soleados no se ve nada en la pantalla
DPC - 14
I ordered the DPC - 14 to replace my existing DPC - 10 on my Karmic Koben S eBike. My brother had purchased a new kit and upgraded to the 14 and liked it a lot. So, I bought the DPC - 14 and did a plug and play and it works great. I really recommend this display!
DPC-14 Display
This is a top notch display. A must have. looks and functions perfectly
Excellent display
The display is wonderful, very readable, and mounts really well.
But -- poor packaging when shipped.
I have 2 of these displays, why are they not packed well when shipped? Both of them arrived stuffed in the small box without cushioning protecting the screen, result: both arrived with scratched screens. This makes them look used which I know they are not and reflects poorly on Luna. It gives one the impression that the parts are hastily thrown in the shipment without concern for a quality delivery. Come on Luna, you can do better. Let me put the scratches in them.
The world became colorful
I used C961 display before. After change to DPC 4, every thing became colorful.
I bought this display for the feature of battery meter & power meter;
I used both 48V & 52V battery on the same bike, so it is important to check the voltage and power on the fly.
Other customized it em also made it better than previous C96x display.

Some folks in the review below argued about the "lock" feature in this display;
if you put high emphasis on locking you ebike with merely display, DON'T buy this.
Buy a firm lock & prey instead.
DPC14 is a good display, not a good lock.

Didn't give it 5 star due to the item status on arriving:
It got some serious scratch on the screen.
Even if the FUNC & display are good, the scratch made my mood bad for a while...
Dayn Anderson
Mar 17th 2017
Great display, has all the basics, just works
Nice bright color display. After years of using different types of displays on different Ebike builds, I really appreciate the layout and simplicity of this display, and yes color VS black & white or black over a green back-round is a nice touch. Easy to read even in sunlight, simple to program, well worth the extra $40.
Add a Review