Luna SixFifty Lone Wolf Hard Tail
---
Optional upgrades:
Based on our new USA made Fusion 52v 12ah Samsung 30q Wolf Pack
BBSHD with full color dashboard
Optional Ludicrous upgrade gives you 2500 watts
KHS Alite SixFifty 200 Starter Bike ($550 retail)
Luna custom Chain Ring
Luna Charger 300w
General Description
Luna Cycle wanted to add an additional affordable hardtail bike in our ebike lineup. Using the KHS Sixfifty 200 as a starter bike, we really wanted to create an affordable lightweight commuter type bike that you can find yourself riding daily. With a decent front suspension fork, most riders find that this is adequate enough suspension until they really fine tune their exact riding needs. With a very modular and typical frame styling, this makes it a great starter bike for customized upgrades (such as a suspension seat post or new fork).
The New fusion Wolf battery features:
14s4p 12ah 50 amp continuous rated
Samsong 30q high performance cells
High Power and reliable Luna BMS
Waterproof and shock proof battery fully enclosed with potting
Single cell fusing with machine wirebonded connections
Magnetic battery mount holds the battery to the frame with 150 pounds of force
Our highest tech battery ever
Built with love in USA

Luna Cycles realizes that not everyone is into building and is offering a very affordable turn key hardtail bike with a BBSHD drive (read about our most popular drive here). This is still another price break through for a quality bike with quality components. We want to make awesome ebikes affordable for everyone.

Although we specialize in build your own kits, Luna can build your bike for you at a fraction of the price a store bought bike would cost you for this amazing performance.
In off-road mode this bike easily does 30mph (not exaggerated) and will climb any hill any human could peddle up and even steeper.

This full suspension mountain bike has quality components which makes it an ideal platform for electric conversion.
Full suspension mid drive powerful bike with a 14ah battery in the triangle is what ebike dreams are made of.
Why buy from Luna a New Ebike Company You Haven't Heard Of?
Read our recent Ebike Mission Statement
Google Luna Cycle Ebike
Read this warning about buying ebikes (do not get punked)
Read this recent Ebike School Article about Luna Cycle.


Build upon quality Bicycles
We start with bikes that are proven as quality bicycles with quality components, before they are even built into ebikes, and that is the right way to do it.
That really separates us. If you want to know why some of our bikes are so expensive, research the bike we base the build on. Then research the battery packs and the electric drive units we power the bike with. We use nothing but the best on a Luna bike.
Honestly you will not find a better bike at a lower price. We get by on much smaller profit margins than our competitors. We buy big on quality components and bikes and pass that savings on to you.
How We Beat Most of the Competition
Luna

Them

Fairly priced
We are Ebike fanatics and experts
State of the art mid drive motor
USA Made Battery - cutting edge tech
Tell you the watt hours 1000 (1 kilo watt hour!!!)
Based on Brand name bicycles (KHS)
Quality bicycle components
Full color display Luna Designed Interface
Programmable interface allows you to really dial in the power.

Overpriced
Ebike profiteers
Heavy hub rear motor (cheap to buy)
Crappier cells, bad pack construction
Exaggerate range numbers
Cheap Chinese imported bike
Sketchy components
Really cheesy dash board if any at all
Not advanced enough to have any programming
Compare these Dream Features
Research these incredible features in this bike and you will not find a better quality ebike at a better value.
Name brand top-shelf Giant Full Suspension Bike
Powerful Mid drive
Custom made 52v Fusion Battery Pack
Full featured Color Display
Pedal assist and throttle features
Fully programmable through an interface
Tons of small details that make Luna the best
Top of the Line Mid Drive Motor Set Up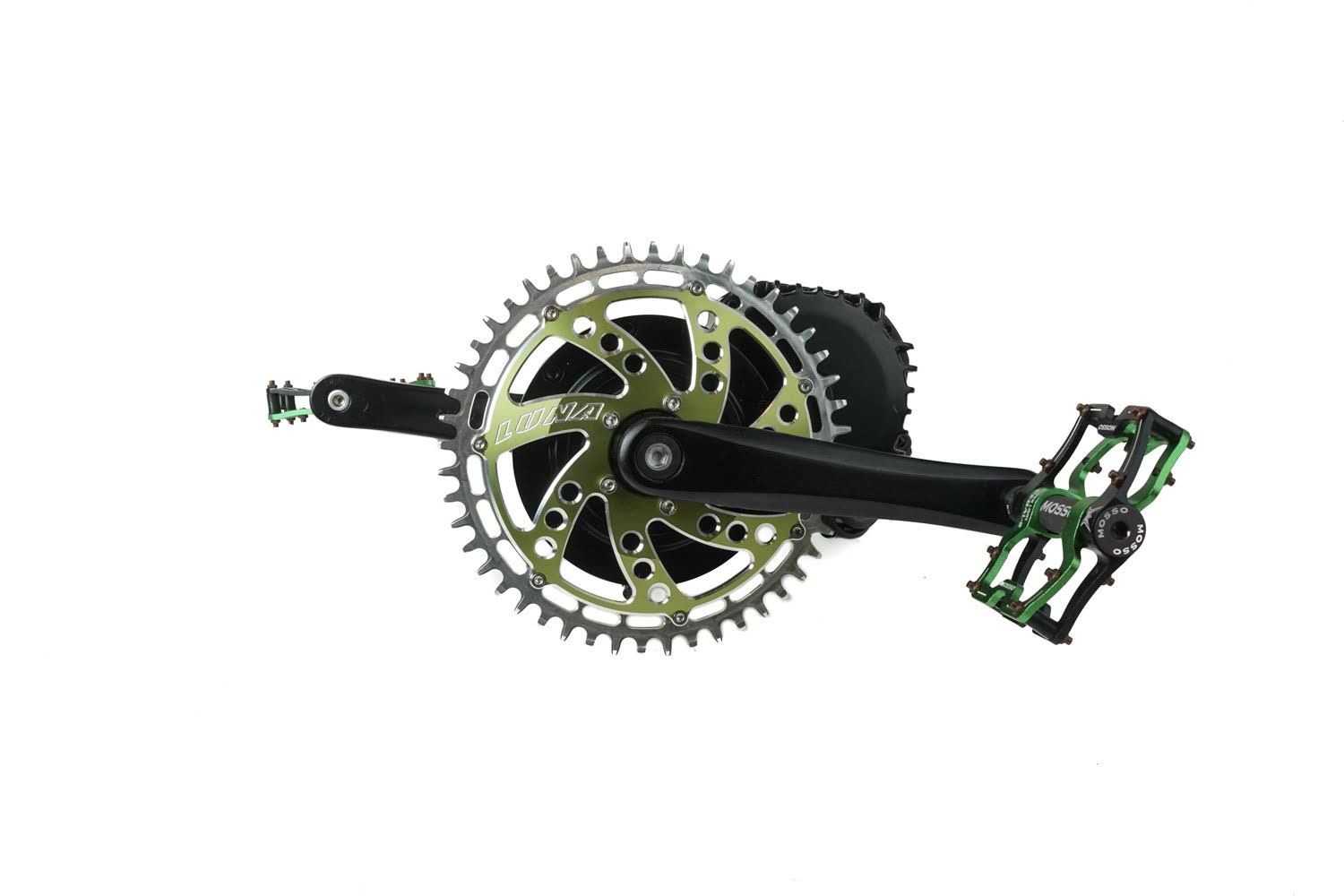 Luna is offering this ebike in a BBSHD format. These drives are the most reliable and powerful drive systems available on the market today, do your own research to back that up. And much more expensive for us to buy than a cheap hub motor. But we are selling them for less money than cheap hub motor bikes typically sell for.

These mid drives are completely silent, efficient, and fun to ride. They have quality color display and both throttle and pedal assist.
We do our own custom tuning to these drives that nobody offers and can support them better than anyone else.
Last year we sold more BBSHDs than the rest of all the dealers combined. There is a good reason for that.

Luna Cycles offers no hub motor bikes, but only mid drive bikes because we believe in offering only the cutting edge.

You will not find this quality with any production bike at this price point anywhere.

Or you can save even more money by converting your own bike and buying one of our kits here. (read about the advantage of mid drive here)

LunaCycle realizes that not everyone is into building and is offering a turn key Fat Bike with a BBSHD drive (read about our most popular drive here). This is still another price break through for a quality bike with quality components. We want to make awesome ebikes affordable for everyone.

Although we specialize in build your own kits, Luna can build your bike for you at a fraction of the price a store bought bike would cost you for this amazing performance.
Color Display / Control Center
Luna is the first dealer in the world to stock the full featured 750c and it comes as standard option in this bike.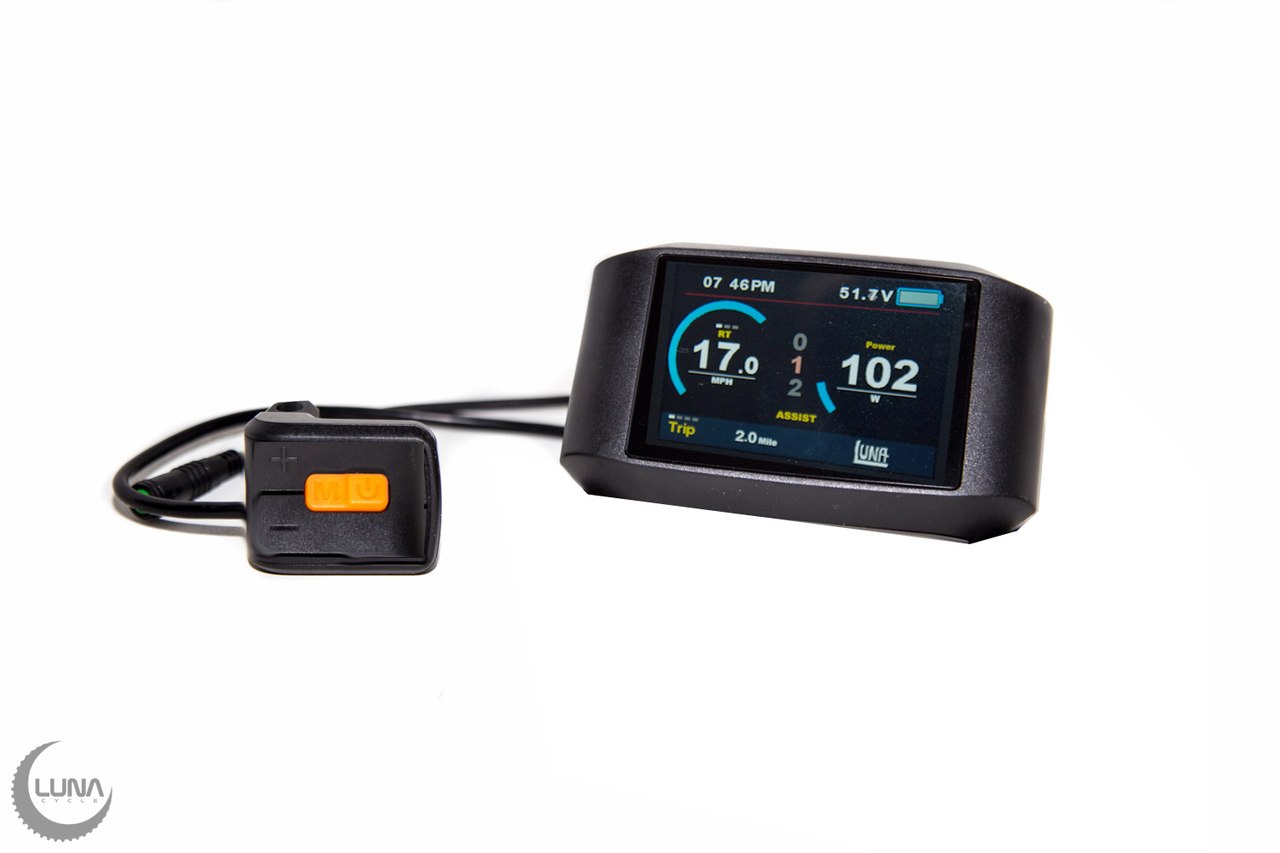 Like all the Luna Bikes this bike comes with your choice of full color display which gives you valuable insight such as battery life, speed, and miles travelled. It automatically changes to dark mode when the sun goes down so you ride in "stealth" mode. There are very few production bikes under $5,000 with this quality of display
21 Piece Luna Toolkit
We feel every rider should have the capacity to wrench, we are including a free Luna kit which is all tools we either made or hand selected to be perfect companion to one of our mid drive bikes.

This will help you because our high performance mid drive bikes will need occasional adjustments, this kit along with our video guides will give you the tools you need.
Frame Sizing
Please don't stress about about frame size the way you do when you buy a pedal bike, it's not as important.

With electric bikes it is not important to get the right frame sizing, since you are not reliant on efficient human power for propulsion, you won't notice much of a difference since the motor is doing the lion's share of the work. We actually recommend going with a smaller size with an ebike than you would get for a pedal bike, because smaller sizes are better for keeping the weight and center of balance low, and are easier to get on and off of (since ebikes are heavier they are more awkward to tilt to swing your leg over). You can always raise your seat or raise your handlebars, but keep the center of balance low and get a smaller sized bike if you can.
Please see the images for a rough size guide.
Plain and Simple Luna Cycle Offers:
The highest quality ebikes you will find for under $5000 with no BS
Only mid drives BBSHD or BBS02 which are the top electric mid-drive system available period.
Say "NO" to crappy rear rack mounted batteries
Say "NO" to crappy over priced hub motor bikes
Get a state of the art mid drive for less
Best deal anywhere on quality ebikes like this
All professionally installed our our skilled mechanics
Sold for thousands less than our competitors sell
An optional no-nonsense part replacement warranty
Read this independent article on buying tips
Warranty Options on Luna Ebikes
We are an eCommerce company and ship this bike to you wherever you are at. We are selling manufacturer direct to save you money but you should realize it is not the same as paying full price from a local ebike shop. We charge minimal markup because we do not offer face to face support. Most of our sales are to enthusiasts and to builders who know what they want and don't need a lot of assistance from their dealer. You can use our forums and knowledge base to find the answer to almost any support question you have.

If you expect your bicycle to be flawless and never need adjustment or maintenance, we recommend that you buy your ebike from a local brick and mortar ebike store if you have one near you, especially if you want person to person support when it comes to adjustments and maintenance of your ebike. We do not offer this level of support.

Bikes are large and expensive to ship, and once you ride it it is used, and we do not offer any returns on your bike unless it is dead on arrival.

For 30 days after you get the bike we will replace any parts that are defective.
These are just bicycles and are easy to maintain and to work on…. And we really encourage you to learn basic bicycle maintenance or get a relationship with a local bike shop.

The Drive system and battery we will cover for 90 days for part replacement.

Extended warranties are available for 6 months and 1 year and 2 year for an added cost. Warranty covers any parts that are defective we will send to you with instructions how to install.

Since our drive systems are modular every repair is easy with the right part in hand.

That being said this a high quality bike with a high quality component system and should be as solid as any ebike. However you will be required to do routine adjustments and maintenance on your own.
For more info on the KHS SixFifty 200 such as specs on the frame itself click here
Shipping notes:
WE SHIP BIKES TO USA ONLY. FOR HAWAII AND ALASKA PLEASE CONTACT US TO ARRANGE THE ORDER. Your bike will be shipped as freight from our Southern California warehouse so it's not your usual small packet delivery truck that will handle it. If the shipping address you used is a residential one then the delivery date that is shown on the tracking system is likely not the day that they will deliver it to. It's the day that FedEx will call you to schedule the delivery appointment. Best is to call them a day ahead of that date! We generally ship this bike on Friday after the stated lead time for your particular order. For lead time estimates see this page
Subscribe to our newsletter!