Luna Cycle becomes an Ebike Seller...why buy from us?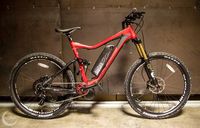 Luna Cycle has quickly become a leader in selling quality motor kits and bleeding edge ebike batteries. (read this story) If you have the skills and inclination to DIY, we think this is the "right" way to go...to save money and to have a more intimate knowledge of your bike. We believe in building.
However we understand that building is not for everyone, and it can take a lot of time that many people would rather use to ride and do other cool stuff.
And we can build a bike better than most people can.
We have a great team of technicians and have incredible tools (CNC machines etc.) to custom make any little part to make our builds as good as we can get them and to ensure a seamless of fit of each component…and each ebike is built to order.
Also we get an amazing price on bicycles and pass that price on instead of price gouging. Some of our higher end mountain bikes actually retail more as bikes than we sell them as ebikes.
Luna Cycle knows there is no affordable options for complete bikes with the quality components we offer (Panasonic GA Batteries, mid drives, quality components, etc.)
So we are offering these ebikes as an affordable solution for those that want turn key bikes. If you do your research you will find that the Luna Cycle complete ebike cannot be beat in both quality and pricing.
Frankly nothing compares to the value and quality of a Luna Ebike.
Furthermore we believe in truth in advertising, and do not inflate range and performance numbers. The industry is filled with exaggerators, re-branders and price gougers (read this independent reviewers ebike buying advice).
We have the best values anywhere in high performance ebikes.
We are an industry leader for ebike motors and 18650 lithium batteries.
We are a California based seller.
We do not price gouge or rebrand.
We sale only mid-drives with triangle mounted Panasonic batteries.
We do not exaggerate range or performance numbers.
We believe in educating our buyers not misleading them.
We build every bike to order with love.
We use only the best ebike drive systems and batteries in our bike.
You will not find a better deal on a high performance mid drive bike anywhere.
We really encourage you to your own research.
Google "luna cycle ebike"
Read this independent buying guide on ebikes (do not get punked.)
Read this recent Ebike School article about Luna Cycle.
Read this review of one of our recently released 2500 watt monster ebikes.
Check out our youtube channel and our facebook page.