Luna Cycle is proud to announce the Apex, a bike that after two years of development we believe will be everyone's first choice for an ebike. We have created an ebike that exceeds all other production ebikes in both performance and quality.
Quick Stats:
True 35 mile range, far more if you use pedal assist

Exclusive drive version made just for Luna

New Custom Torque sensor that has been professionally tuned by Luna for the most efficient power output available

52v 21ah Custom Fusion Battery, m

ade in-house with state of the art wire bonding technology.

Rohloff 14-speed internal gear speed hub or Sram GX Eagle 12 Speed

Space Age, custom designed 1 Carbon Frame Set

Full Suspension 4" Fat Bike, for the smoothest, most controlled ride possible
Each bike is hand built in USA
3 different sizes to choose from: 17", 20" and 22" (S,M,L)

Includes a Luna Advanced 300W Charger

65-75 pounds depending on size frame and options selected
General Description
The Apex is the pinnacle of modern electric bike engineering.
This is the first bike to have Off-road only levels of throttle power combined with torque sensing pedal assist. The massive power you get is far above the lackluster pedal-assist-only, feeble drive designed for the 250 watt European Market. The Ultra was built for Luna Cycles for the US market to go on bad-ass bikes like the Apex.
The Apex is the the most difficult ebike we have ever built, put together piece by piece, and we are proud to be able to offer it to you. We love this ebike! At Luna we are true Ebike nuts and have been that way for many years before selling kits or ebikes. The Apex is a wicked combination of a high tech battery, the ultimate mid drive motor, and the most beautiful carbon full suspension frame partnered with A-list components that our competitors simply do not have access to.
The Apex is projected to be the Luna Flagship product. This is the ebike that shows what we are capable of achieving by a company that is dedicated to the future of ebikes.
Please note the Apex set in its highest power levels is not legal for road use. If you intend to ride on-road, please select the road legal 750 watt version on check out and we will limit the power of your Apex to 750 watts.
For an independent review of the Apex check out this article by electricbike-blog.com
Dream a Better Frame (in 3 sizes)
Size Chart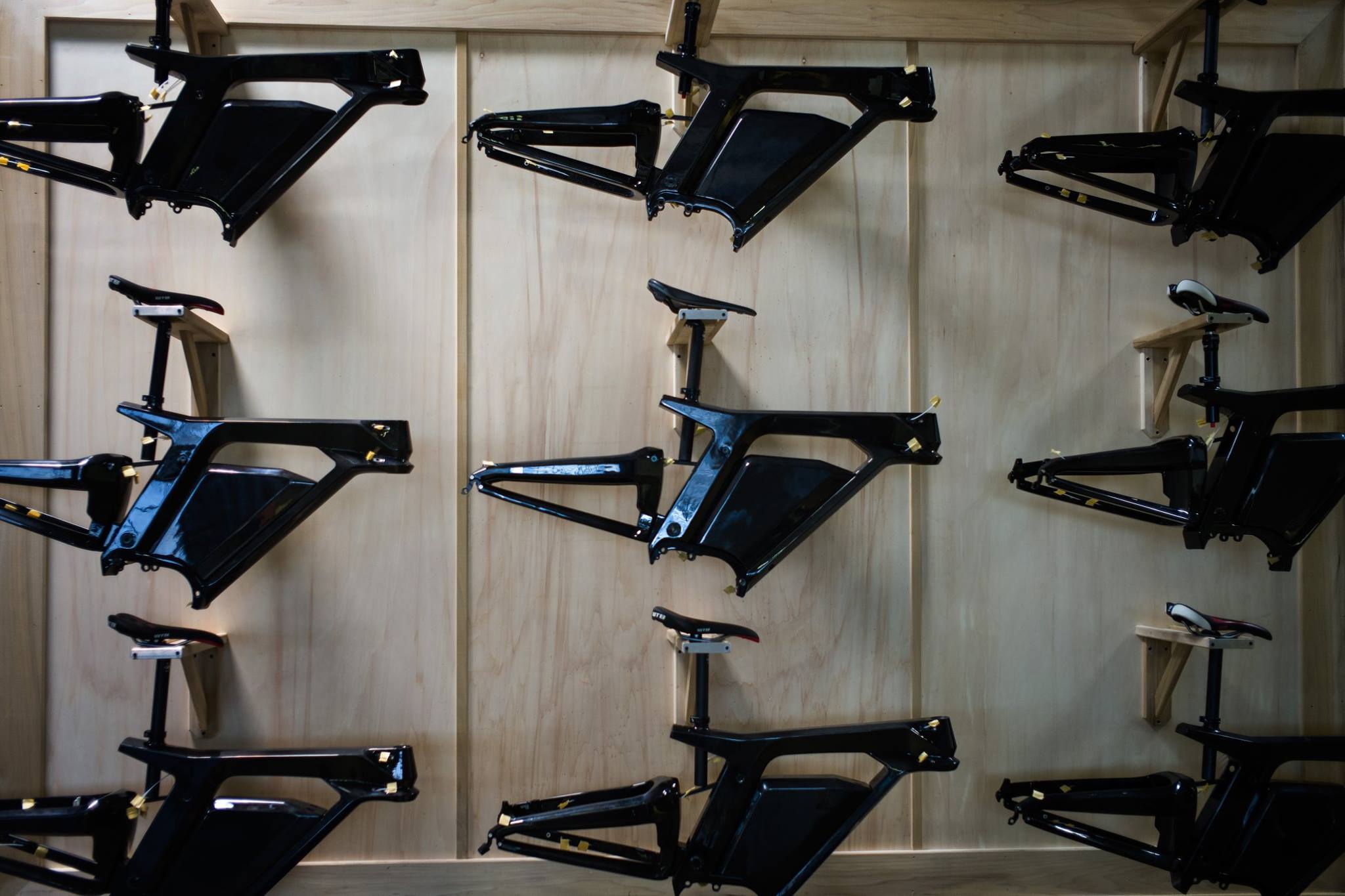 The Apex's futuristic shape is made from Grade 1 carbon fiber creating an appealing design using top-notch workmanship. You will not find tubular or flat surfaces on this bike. Every spar is angular, contributing to the custom, high-end look. Our primary goal when designing the Apex was not only functionality and performance, but designing a spectacular bike that was truly different from all others on the market.
Unlike many mainstream Ebikes, this frame is offered in 3 sizes (small, medium and large), and because it is carbon we created three separate molds.
Regarding selecting the right bike size, we think that if you are in doubt, you should default to the smaller size. We think that unlike traditional bikes, having the optimal sized bike is not as important. A smaller frame has its advantages on an Ebike; it will have a lower center of gravity and be easier to get on and off.
Full suspension fat bikes are increasingly rare, as they are typically much harder and more expensive to design and to manufacture. A full suspension electric fat bike with a powerful mid drive that doesn't flex and bob when you hit the throttle is nearly impossible to find. Luna set out to accomplish exactly this, and it did - in carbon.
To even compare this accomplishment the only thing we know that compares is the $9500 Specialized Levo which is only 530 watts (pedal assist only) and just making it to the market in carbon in 2017. Also, the Levo only has 1/3 the battery capacity.
We had a leading carbon frame engineer help us with the design and we went through several design changes and prototypes. This Ebike is designed as an Ebike, using 4x the amount of carbon in some critical stress areas to give this full suspension bike the toughness it needs to handle a high torque motor and a full suspension design.
Taking advantage of the latest in manufacturing techniques and using composite materials we were able to develop a bike that is completely unique, a shape never seen before in a production bike. We use a carbon fiber house that specializes in F1 car parts to make this shape and the molding process possible. We first focused on creating the perfect battery shape in a removable battery compartment, as large as possible. We used the most technically advanced and energy dense cells available, and then designed the rest of the frame around the battery. This is a purpose-built ebike from the ground up and it uses the best ebike battery ever manufactured, in the most unique shape to meet its goals. The days of production bikes with rear rack batteries, and bolt-on dolphin packs are numbered.
The Ultimate Power Mid Drive
We proudly worked hand-in-hand with Bafang to develop and manufacture this new massive " Mag Ultra" motor to make ebikes like the Apex possible. The Mag ultra is made from magnesium weighing 2 pounds less than the standard drive and puts out 3000 watts.. Standard ebike output can be programmed one of three ways: a street legal 750 watt version (1000 watt peak), a 2000 watt version "Ludicrous mode" . We are ecstatic about the reliable and smooth power we have programmed in a shape that is integrated into the frame much like the Bosch or Brose motor, giving you serious torque and speed and maximum ground clearance. This motor has considerably more motor mass than the bolt on the BBSHD conversion kit but uses very similar engineering to the BBSHD, which has proven itself to be a reliable high-performance mid drive motor. The Ultra promises to be even better due to the increased motor mass and improved heat dissipating qualities, but at the same time still preserving the same silent and reliable performance.
We replace the internal nylon gears with stronger steel gears and use our own proprietary sine wave controller to make all this possible.
Torque Sensor
The Mag Ultra Drive has a pedal-assisted torque sensor built in which we have custom programmed to ensure a smooth, drama-free riding experience. You also have a thumb throttle for technical hill climbs or for when you just don't feel like pedaling.
A torque sensor (read this article for more info)
senses how hard you are pedaling rather than just how fast to give you a more bionic feel when you apply pressure to the pedals. Luna did this in responses to the feedback from our customers who were requesting a torque sensor in our ebikes, many citing as the only argument on why they believe the Euro designed bikes are better. We're thrilled to say that we have delivered, all while not compromising performance, which has been our staple for years. Why choose between a throttle or a torque sensor when you can have both?
Our Best Battery Pack Ever
The Apex uses the most advanced E-fusion ebike battery we have ever created. The pack uses the very latest in battery technology, incorporating top of the line 18650 cells. It is wire bonded (read story on wire bonding ebike battery) for the ultimate in safety and single cell fusing. It features the luna terminator bms, an ultra reliable BMS made with advanced components, to ensure that your battery is always balanced and safe. The BMS will allow the battery to pull up to 75 amps continuously. With these new advancements, we are able to provide 52v 21ah in this tiny case giving you a whopping 1100 watt hours, for rides longer than you ever thought possible. Like the rest of the bike, the battery case is unconventional with a custom Space Age design incorporating rounded cues and complimenting the frame perfectly. All of our Apex packs are made here in the USA, using cutting-edge production methods. Each battery undergoes thorough various tests and quality processes before being shipped to the customer. It is completely sealed, waterproof, rugged and above all, safe.
A-List of Components
This bike has an "A-List" of components available, including the following:
The Rohloff (optional)
The German-made Rohloff 14-speed internal gear speed hub is our all-time favorite ebike component (read our article on electricbike.com). The Rohloff is a bulletproof transmission built into the rear hub of the bike. It gives you 14 speeds and a whopping 500 percent gear ratio while getting rid of clunky derailleurs, as well as the associated maintenance and mechanical issues. The Rohloff is bullet proof even on a high power ebike like this if you use some care while shifting. If you happen to blow the Rohloff out with all this ebike's power, we will rebuild it for only $100 for the lifetime of the ebike. We have never managed to blow a Rohloff out, but do offer the rebuild service in case this does happen. The Rohloff is a heirloom product, and you will probably have it for life. It really is that good! It is pure ebike porn, and we think it is a conducive feature to add onto a high caliber mid drive ebike like the Apex. This ebike will come with the newly released Rohloff format for the thru axle wide dropout fat bikes.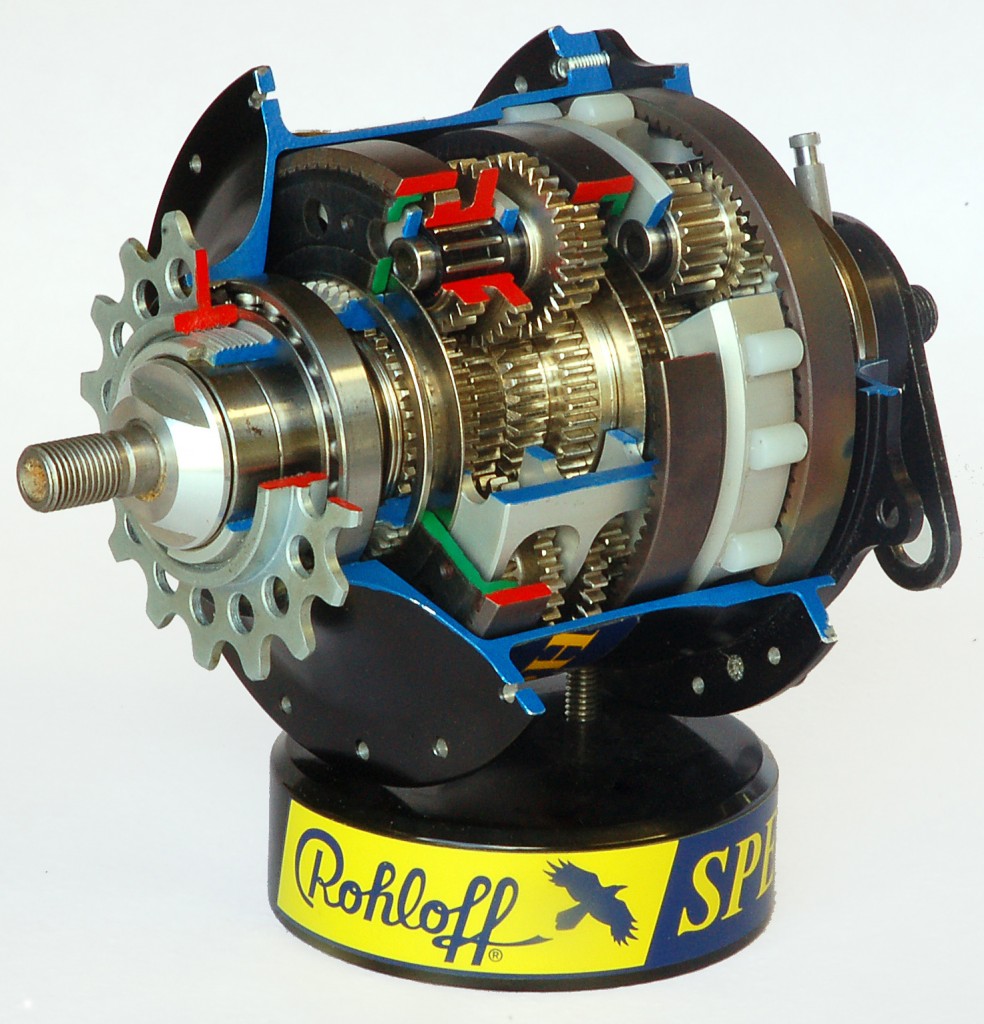 Because this is a build-to-order bike you can pick your favorite parts (please stick to the list of available upgrades). The Apex is a fully customizable bike because it is hand assembled in the USA at the Luna factory. This bike takes a full day for our expert mechanics to assemble, test ride, and pack. Each bike is extensively test ridden and adjusted before being sent in a large shipping box to the customer.
The cables are fished through the frame to make an ultra clean assembly, rarely seen these days on any ebike.
The bike only takes 2 minutes for the customer to assemble. You only need to straighten the handlebars, tighten, and ride. No further adjustment should be required.
Technical Specifications
E-BIKE
| | |
| --- | --- |
| BATTERY | 52v 21ah Custom Luna Fusion Battery, 1100wh |
| DISPLAY | Full Color DPC18 with USB Out (5v), Eco/Sport Mode, 5 Levels of Assist |
| MOTOR | BAFANG Ultra Torque Sensing Magnesium Drive, 2000 watts, with Throttle, and Gear Sensor |
FRAME
| | |
| --- | --- |
| FRAME | Full Carbon, Fat Suspension, Enclosed Internal Cable, 110mm Travel, Fully Sealed Cartridge Bearings |
| SEAT BINDER | Alloy 31.8mm |
| FORK | Wren Inverted Fat Fork with 110mm Travel |
| HEADSET | Cane Creek Tapered Hellbender |
SUSPENSION
| | |
| --- | --- |
| REAR SHOCK | Rockshock Monarch RT3, 3 Position, 165x38mm |
COMMAND CENTER
| | |
| --- | --- |
| SEAT POST | Wren Carbon 600 Series 31.8mm |
| STEM | Wren Crazy Lightweight Alloy Series 70mm |
| HANDLEBAR | Wren 330 Series Carbon 31.8mm, 750mm |
| SADDLE | WTB Volt |
| GRIPS | UltraCycle Kraton Rubber 130mm Wide |
DRIVETRAIN
| | | |
| --- | --- | --- |
| REAR DERAILUER | SRAM GX Eagle 12 Speed | Rohloff 14 Speed IGH |
| SHIFT LEVER | SRAM GX Eagle | Rohloff |
| CHAIN | SRAM GX Eagle | KMC-X8 |
| CHAIN RING | Wolftooth 44T, 5x130 BCD | RACEFACE 44T, 5x130 BCD |
WHEELS
WHEELS

Sun Mule Fat, Single Wall 80mm, 32h

Carbon Rims, Double Wall 80mm, 32h

FRONT HUB

Sun Ringle, 150mm spacing

15mm thru-axle

REAR HUB

Sun Ringle, SRAM XD Drive 11-50, 177mm Spacing,

12mm thru-axle

Rohloff Speedhub 14 speed, 170mm Spacing,

Quick Release

SPOKES

Steel Black 14G

DT Swiss Black 14G

TIRES

MAXXIS

Mammoth 26x4"

INNER TUBES

Standard

Presta Valve
BRAKES
| | | |
| --- | --- | --- |
| BRAKES | Shimano MT501 | Hydraulic Disc Brakes |
| FRONT ROTOR | Shimano | Ice Tech 203mm |
| REAR ROTOR | Shimano Ice Tech 180mm | Rohloff 180mm |
Shipping Notes:
WE SHIP BIKES TO USA ONLY. FOR HAWAII AND ALASKA PLEASE CONTACT US TO ARRANGE THE ORDER. Your bike will be shipped as freight from our Southern California warehouse so it's not your usual small packet delivery truck that will handle it. If the shipping address you used is a residential one then the delivery date that is shown on the tracking system is likely not the day that they will deliver it to. It's the day that FedEx will call you to schedule the delivery appointment. Best is to call them a day ahead of that date! We generally ship this bike on Friday after the stated lead time for your particular order. For lead time estimates see this page
Subscribe to our newsletter!