Cyclone Mid Drive 3000 watt Planetary Ebike KIT
---
For Off Road Use Only
For experienced builders only if this is your first kit check out our BBSHD kit instead.
36-72V
40 amp high performance ebike controller (needs a high amperage battery)
6 to 1 planetary gear reduction
12 pounds system weight
Double chain-wheel 44t-44t
High quality right-twist Throttle
Standard square taper kit will fit 68-73mm bottom bracket, or even 83mm with a BB spacer
Options to upgrade to Fat kit for 83-120mm bottom bracket sizes
New and improved mounting brackets that minimize flex
Needs at least a few feet of single speed chain from motor to freewheel, chain available at this link
The cyclone is for off road use only. The power limit in the US for road use is 750W.
Luna Cycle is proud to be the first company to introduce this amazing kit in mass to the USA.
This kit is for experienced builders only who know what they are getting into.
Kit options
Stock chainwheel or triple chainring
Luna-tic chainring for ultimate durability
Wide variety of throttle options to suit your preference, see individual throttle listings for details on each
High power fully potted sinewave controller upgrade available
Ebrakes for safety cutoff purposes (stock controller only)
PAS cadence sensor for pedal assist (stock controller only)
Here are some videos to give you some ideas on how the Cyclone 3000 watt looks installed and what kind of performance to expect and at what noise level:
Youtube video from Russia with 3000w install and ride
Here is the Cyclone 3000w installed on a mongoose fat bike frame and you will notice this user welded a few custom brackets to the bike to make an ultra tight installation.
Affordable performance
According to Cyclone this is a big improvement over their old system. It is quieter, more powerful and reliable at roughly the same low price. The 3000w Cyclone drive is a bargain.
It uses a geared reduction so the motor spins at a slow rate and puts out tons of power so you can still pedal assist the bike which can be a big problem with most powerful mid drives.
This is a mid drive kit designed for reliable high power. This drive system is also a bargain compared to the Bafang BBSHD which is half the power and weighs more and costs twice as much. The older cyclone drive is known for being rebranded the "Ego" and sold on very high end expensive bikes and $3500 just for the kit (with backpack battery). This is an improvement over the old cyclone motor in that it will handle more power and is super quiet.
With the controller that comes with the kit you will can easily achieve 40mph speeds. You will need a high power battery to match the performance of the controller as it can pull 40 Amps continuously.
Not Street Legal Unless Limited
Most of the USA has a 750 watt limit on ebikes. This mostly applies to store bought ebikes and there is a debate on whether that applies to a DIY kit.
These kits are too powerful to be street legal in the USA and are for off road use only.
Recommended battery
We recommend one of our 52 volt batteries the more Amp hours the better (larger size also means more power) with either Samsung 25r or 30q cells, or one of our GA packs with enough capacity to deliver sustained high current. We highly recommend a 20ah pack with this set up. This drive system can heat up and degrade the life of a low amperage battery pack. We recommend that you use one of our battery packs with a 50 amp capacity BMS (each listing says which packs have this). The Shark or Dolphin batteries probably will not put out enough power to maximize this kit because they have 30amp maximum BMS. We do not recommend to use Panasonic NCRb cells with this set up because of high amperage limitations.
Regarding installation:
Note: this is the latest cyclone kit with new and improved mounting brackets that mimimize frame flex and eliminate the need for the janky looking Hose clamp. The picture below illustrates the difference between the 68mm and fat bike kits.
We also highly recommend our own advanced 3d mounting system which you can find here if you are mounting on a 68mm bike.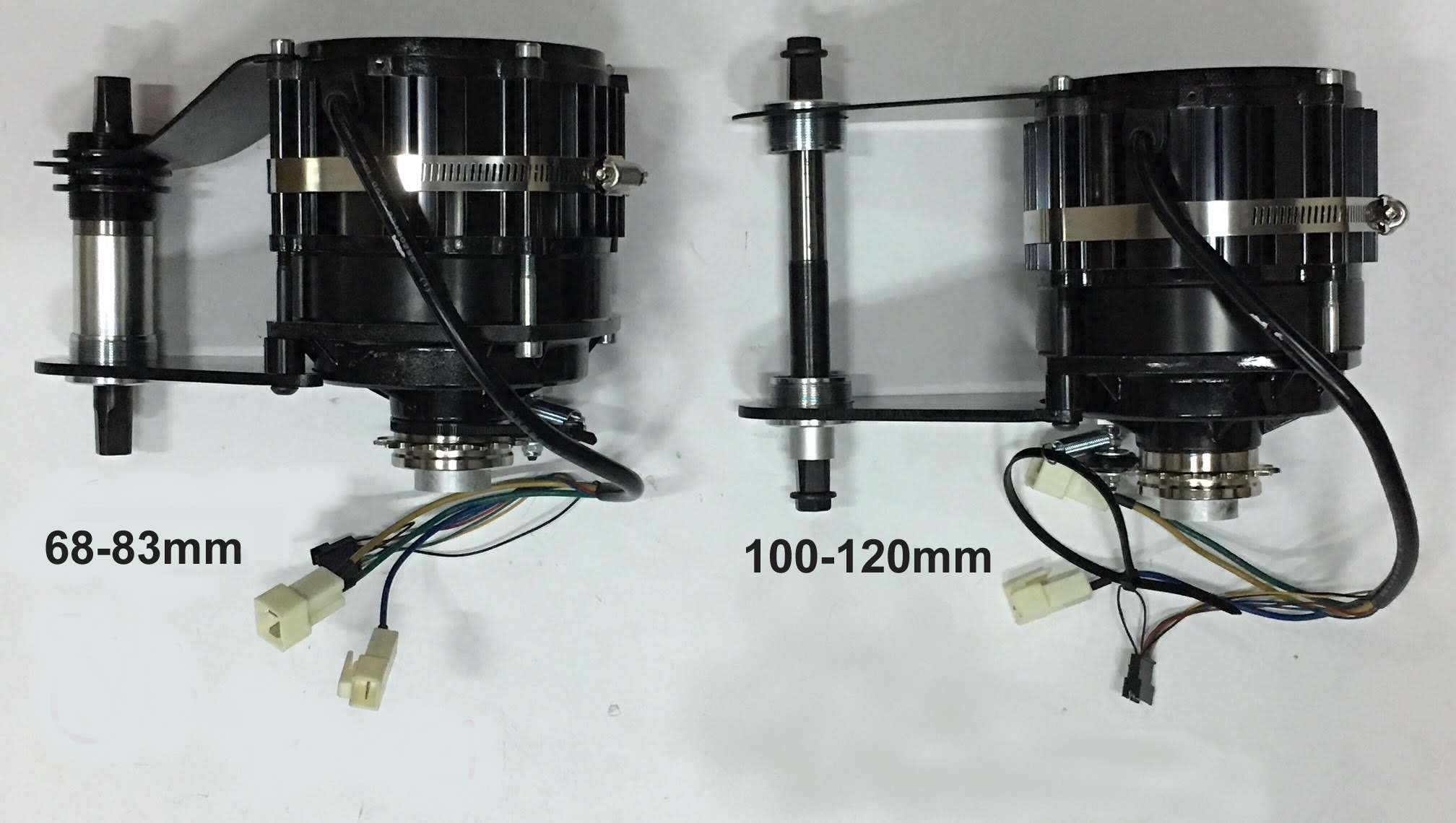 This is not an easy kit to install. If you are looking for ease of installation check out the Bafang BBSHD or the BBS02. We cannot provide installation support on this drive and it does not come with instruction manuals. This kit will install differently on different bikes and may require spacers and even some fabrication. If you don't have a multimeter or don't know how to use one then you should really check out the Bafang BBSHD or the BBS02 kits.
Read our in depth article which explains what your up against when taking on the Cyclone.
That being said the cyclone is not that difficult to install if you jump into it with fair expectations.
We do have install videos to give you an idea... starting with the 68mm install video and how to install on the 100-120mm bottom brackets
Electric-Fatbike.com (did a great article here) on installing the 100mm cyclone kit which everyone should read before they tackle this build.
There is a pictorial guide here on the Cyclone website which is for an older drive but the same principles apply. We also have a quickstart guide on our forum, and details on some of the wiring. Before making a purchase like this we recommend you do your research so you have an idea what you are getting into.
Please do not buy this kit if you are a first time builder unless you are willing to take on the challenge. This kit is not that hard to install but like a lot of advanced DIY ebike technology it is not easy either.
It uses a geared reduction so the motor spins at a slow rate and puts out tons of power so you can still pedal assist the bike which can be a big problem with most powerful mid drives.
Support notes:
Nothing comes close in terms of "bang for the buck" and to offer you such a great deal comes little drawbacks. The motors are shipped in large crates so it's possible that your motor has little scratches and dings but it's only cosmetics and minimal. If you needs a mint looking motor and controller please take a look at the BBSHD mid drive.
If using bluetooth controller option it has a smartphone app to use phone as display. This app is on the controller listing. 40A version here ... 60A version here
(See the questions and answers tab for miscellaneous extra info)
Compatibility
Subscribe to our newsletter!